Klimaat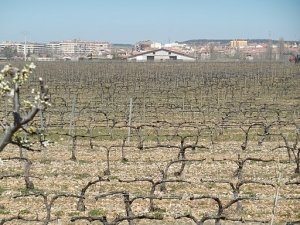 verandering is een hot topic. Elke wijnbouwer en wijnkenner weet hoe het weer een oogstjaar goed of slecht kan maken. Op langere termijn hebben we het over haalbaarheid van wijnbouw door overdreven hitte, droogte, ziektedruk of klimaatrampen zoals hagel en hevige storm.
Voor sommige regio"s een opportuniteit om wijnbouw te overwegen, voor andere een signaal om aan reconversie te denken. In elk geval, niemand blijft van denk- en giswerk gespaard.
Voor velen ligt de sleutel bij de wijnstok. Aan de ligging van de wijngaard valt weinig te sleutelen, de bodem kan je hoogsten oppervlakkig beïnvloeden en het klimaat gaat onze macht ver te boven. De druivenstok en de menselijke keuzes moeten het verschil dus maken.
Italië heeft een overvloed aan Vitis vinifera L. variëteiten maar toch gaat de universiteit van Udine op zoek naar hybriden die de smaak respecteren en resistentie hebben tegen de aankomende ziektedruk.
Irrigatie wordt, ook in Europa, voor heel wat regio's onmisbaar. De helft van de Spaanse wijngaarden kampt met een droogte probleem en Centraal Italië zit ook met een ernstig watertekort, zo erg dat 11 regio"s alarm slaan en beroep op een rampenfonds.
Elk niveau, van wijnbouwer, over wetgever tot importeur en consument heeft een taak om klimaatverandering te integreren. Hetzelfde smaakprofiel, met dezelfde druif in dezelfde regio met de dezelfde traditionele technieken heeft, op langere termijn, weinig overlevingskans.
Langere termijn, dat is 2050. Het commercieel bestaan van een wijngaard beslaat 30 à 50 jaar en dat maakt meteen duidelijk waarom er nu dringend moet gedacht worden.
https://www.lebonvin.be/wp-content/uploads/2020/09/logo400x-300x226.jpg
0
0
LebonVin
https://www.lebonvin.be/wp-content/uploads/2020/09/logo400x-300x226.jpg
LebonVin
2018-12-04 11:20:02
2018-12-04 11:21:25
Klimaat en wijnbouw: vriend of vijand?